Featured Quote:

"Don't wear perfume in the garden--unless you want to be pollinated by bees."
~Anne Raver



Q. Is Fall a good time to plant?
A. Fall is usually the best time of the year to plant trees and shrubs. Fall plantings will: 1. Give your plants a headstart for spring. 2. Demand less care because of cooler weather. 3. Provide a more pleasant working condition.
Q. When does "Fall Planting" start?
A. "Fall Planting" begins as soon as the air begins to cool and the days begin to shorten: plants decrease their rate of growth. Experienced nurserymen refer to this as the time when plants "harden off." When you feel that fall "nip in the air," it's a great time to plant!
Q. Do plant leaves stop functioning in the fall?
A. Leaf color may change slightly and the leaves may harden, but they continue to make and store food for the root system. When leaves finally change to their fall color, the food manufacturing process ends.
Q. How does the weather change affect planting?
A. Cooler weather means plants need less water. Newly planted trees and shrubs will have less transplant shock and will need less care later in the year.
Q. What kind of plants can I plant in the fall?
A. Most trees, shrubs, perennial flowers, grasses and roses are easily planted in the fall, as long as weather conditions are right.
Q. How late in the fall can I plant?
A. It depends on the plant. Some trees, like Dogwoods, Magnolias, and other tender trees should not be planted after October because they need to establish new roots before temperatures drop too far. Broad-leafed evergreens should also be planted early in the fall. Most other hardy, woody, ornamental plants may be planted until the ground freezes.
Summer's heat, and dry soil conditions cause noticeable browning on tree and shrub leaves, especially around the leaf margins. This is called Summer leaf scorch. Symptoms of leaf scorch vary from plant to plant, depending on the situation.
Leaf scorch is a non-infectious, physiological condition, caused by unfavorable environmental situations. It is not usually caused by fungus, bacteria, or virus. The problem may appear on almost any plant if weather conditions are extreme, such as high temperatures, dry winds, and low soil moisture. When large amounts of water evaporate from leaf surfaces, and if the plant's roots are not able to furnish enough water to compensate for this transpiration loss, leaf tissue dies and the leaf turns brown as a result.
Young trees, or those that are already in stress due to insect infestations, diseases, or other factors, are more susceptible than those growing vigorously, and are in good condition. Although all plants can show signs of leaf scorch, some plants are more prone, such as Japanese maple, Norway maple, Sugar maple, beech, ash, oak, linden, birch, alpine currant, horse chestnut, white pine, hydrangea, rhododendron, viburnum, and flowering dogwood.
Fall is usually a good time to fertilize your lawn. However, this year with the hot dry weather, and no summer rains, water may not be available to keep your lawn watered properly this fall. It will be better not to fertilze your lawn this fall than to fertilize it and then not be able to water your lawn properly! If water is going to be shut off early, or if the weather remains hot (and water is scarce), wait until November to apply your fall lawn fertilizer; when the winter snow can water it in completely.
If water is available, and the temperature cools down, then fertilize your lawn with a slow release fertilizer such as J&L Fall & Winter Lawn Fertilizer. Another excellent slow releasing lawn fertilizer for fall is Dr. Earth Organic Lawn Food. This organic fertilizer provides many beneficial bacteria that helps your lawn overcome many problems. It is extremely helpful in helping to prevent lawn diseases. If you have problems with any of the spring or summer lawn diseases, this is the fertilizer that you should apply both this fall and next spring.
Do not let leaves remain on your lawn very long, rake them frequently. Falling leaves shade the grass and can kill the lawn during the winter if they remain too long. In addition, leaves left on lawns too long stimulate a lawn disease known as snow mold. One of the easiest ways to dispose of these unwanted leaves is to simply mow them, bag them, and use them as compost in your gardens. Mow your lawn 1.5" to 2" long from not until your lawn stops growing in November. Once the lawn stops growing for the winter, mow your lawn as short as you can.
Many lawn weeds are still growing right now. Fertilome Weed Free Zone is a good spray to kill most weeds in the lawn, including dandelions, morning glory, oxalis, and clover. Weed Free Zone will not kill any of the 'grassy weeds' - it will just kill the 'broadleaf weeds.' If you have any of the grassy weeds, such as crabgrass, watergrass, or foxtail grass, just pull as many as possible this fall to prevent them from dropping more seeds. Apply Crabgrass & Spurge Preventer next spring to kill most weed seeds next year as they germinate

Splash Splash Colors in Containers
Splish Splash, we're having a blast!
Splashes of color,
a dash of green,
plenty of "spikies,"
and foliage with sheen.
Trailing and lovely,
billowing and white,
large leaf or curly leaf
All a delight!
Yes, we're talking about floral and foliage beauty in patio or deck containers. Anything goes; don't hold back. Don't be afraid to plant with annuals, perennials, grasses, vegetables, herbs or succulents. Your plant choices will seem endless.
Container gardening offers something for everyone. Think of it as a work of art and yourself as the artist. You might want simplicity--a single plant, the same color as the chosen pot. Or you may want to find foliage plants (no flowers, please!) of many different sizes, textures and colors to create an arrangement that reminds one of a modern art painting.
Can you envision this: Pennisetum setaceum 'Rubrum', a fountain grass, in the center; various coleus in contrasting colors of burgundy and chartreuse surrounding the grass; a couple of begonia 'Escargot' tucked in for color contrast and foliage texture; and finally, black Ipomoea (Potato Vine) and Lysimachia (Creeping Jenny) 'Goldilocks' trailing over the sides!
An impressionist look can also be accomplished by blending flowering annuals and perennials, all close in both color and flower size. Or, try a mixture of complementary colored flowers. Imagine this: In the center of the pot towers Queen Anne's Lace, surrounded by white, pink, and purple nemesia. Draping off the sides of the pot, sweet alyssum in white, pink, and purple. All soft colors, sweet fragrances and delicate blooms!
Try mixing ornamental grasses together. Combine soft green stipa or a rich golden brown carex with short tufts of silvery blue Festuca glauca. What a wonderful color combination. Stipa is a wispy grass and will give you "motion in the garden." Don't be afraid to mix your favorite ornamental grass with complementary perennials or annuals.
Rather go with vegetables and herbs? You will not sacrifice beauty; you will explode with it! Purple sage and 'Bergarrten' culinary sage (Salvia Officinalis), basil (many varieties), chives, lettuce (red leaf would be fun), sweet peppers with tiny bright red orange fruits, and French tarragon (it has a bright yellow flower) all surrounding rosemary. Clipping herbs or lettuce for the evening cookout is just a step onto your patio. This combination might be so beautiful you'll hate to snip off any foliage. But don't worry about that; these herbs and veggies will just keep on growing!
Don't forget our planting advice. We encourage you to select a high quality potting mix and to mix in a controlled release fertilizer. Also, remember that moisture retention is frequently a problem with containers, so mix in a soil polymer that will hold on to the moisture between watering.
Just a few further tips as you plant your own piece of living art:
Consider grouping containers together, varying the heights of plants and containers
Make one container the main focal point
Create some coherence to each grouping in color scheme and plant forms
If the background is "busy" and colorful, choose like colors and lots of foliage
If the background is light, rich flower and foliage colors will look fabulous
Summertime is the time for outdoor living! Now is the best time to decorate your outdoor living spaces with floral and foliage works of art. We look forward to watching you create your masterpieces. Hurry in. We'll meet you in the gardens.
Getting the Most from Cut Flowers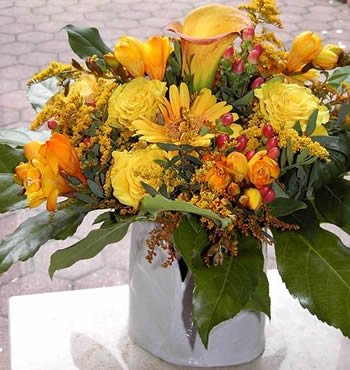 An arrangement of fresh flowers will brighten a room, bringing the beauty of nature indoors. Picking fresh flowers that you have grown yourself is one of the delights of gardening, but whether you are picking your own flowers or buying cut flowers, you will want to do all you can to get the most from your arrangement.
Picking Flowers
When picking flowers from your garden, do so early in the morning or late in the afternoon. Cool them quickly by placing them in a bucket of water left in a cool place for an hour or so. This is especially important in hot summer weather.
Buying Cut Flowers
If you are buying cut flowers, look for bright, fresh- looking flowers that are just starting to open. Avoid flowers that have been standing in the sun or have been exposed to car exhaust fumes. Flowers with yellowing leaves on the stem or those with slimy stems have been in water for quite some time and are unlikely to be very satisfactory. When you get your flowers home, put them straight into a bucket of water without unwrapping them and leave them in a cool place to revive.
Clean Vases
Make sure your vases are perfectly clean. The stains in vases are usually bacteria that will get to work blocking the water uptake to the flower stems. Stains that are difficult to remove with normal cleaning may be removed by filling the vase with water and adding a few drops of household bleach. Allow the vase to soak for a couple of hours; then rinse well.
Clean Water and Preservatives
Clean water is essential for cut flowers. You can change the water in the vase daily or use a floral preservative. Check the vase often to see if it needs filling. Some flowers with woody stems drink a lot of water, especially in the first two or three days after cutting.
Preparing the Flowers
Cut off a couple of inches of stem with sharp shears and be sure to remove any leaves that would be below the water level in the vase. Any left on the stem will rot quickly and pollute the water.
Daffodils, jonquils and tulips should not be placed with other flowers immediately after cutting because their secretions can block the stems of other flowers, causing their vase-mates to collapse. Place them in a separate vase for an hour or two. Then seal the tips of the stems by dipping them in very hot water before adding them to a mixed arrangement.
If flowers develop a bent neck, they probably have an air lock in the stem and are unable to absorb water properly. Recut the stems under water and place them in cool water for a couple of hours.
Most flowers absorb water best if cuts are made between nodes or joints. This is certainly true of carnations and hydrangeas. Never crush the stems, as the damaged tissue will not absorb water well, and the water will become polluted. Sharp, clean cuts are best.
A number of flowers respond well to having the stems scalded for a few seconds. Place the ends of the stem in boiling water for about 20 seconds, but be careful to keep the heads out of the steam.
The Ease of Growing Eggplant
By Tamara Galbraith
Wondering what will grow in your veggie garden during summer's most sweltering months? Try the heat-loving beauty that is the eggplant.
Apart from the gorgeous fruit - which comes in many shapes and sizes, from the classic deep purple to pure white, to lavender-and-white marbled, and from the familiar large oblong fruits to the long slender Japanese varieties - the eggplant is in itself an attractive plant that can be grown as part of the ornamental garden. Its upright habit is fairly tidy, and the large, furry leaves provide an attractive contrast to other, more run-of-the-mill, plants in the landscape.
Unfortunately, eggplants tend to baffle a lot of gardeners. Many people don't want to grow them because they don't know what to do with the fruit, and that's a shame. When picked young, firm and still glossy, eggplants are delicious, virtually seedless and not bitter, and they make a wonderful accompaniment to many Italian and Mediterranean dishes.
Watch out for the rest of the plant, however; eggplant is a member of the toxic nightshade family, so don't eat any part but the fruit.
Most varieties should be planted 18 to 24 inches apart; compact and dwarf kinds can be a little closer together. Stake taller plants to keep the fruits off the ground. Plant in full sun - the more sun, the better. Soil should be fertile, well-drained and rich. Eggplant is somewhat drought tolerant, so don't overwater - it is susceptible to root rot. Mulching around the plant will help maintain even moisture. Water a bit more often when blooms appear. Eggplants will also do well in pots; use 3 gallon or better, with a good potting mix like. Feed with a fertilizer recommended for tomatoes; like tomatoes, eggplants will put out lots of foliage and little fruit if you use a fertilizer too high in nitrogen.
This is the time of year when warm-season lawns, such as zoysia and St. Augustine are looking their best, but cool-season lawns such as Kentucky bluegrass, perennial ryegrass, and tall fescue are looking their worst. Water warm-season lawns deeply and infrequently, feed them every month to six weeks, and mow them as short as possible.
Feed dichondra half-strength. Continue to water cool-season lawns regularly, cut them high, and feed them lightly, if at all.
Control crabgrass when it turns red. Now, in August, you have another chance to control crabgrass - this time when it goes red in color but before it sets seed. Ask for products containing DSMA or ASMA. Be sure to follow the directions on the package and not to use these products in the middle of a hot day. Water deeply the day before use, and then avoid watering again as long as possible. For best results pull out the clumps after they die. (Another possible control is to spot-treat with glyphosate, but it will kill anything it touches.)
Control pests and diseases on cool-season lawns. Dead or brown patches often disfigure cool-season lawns now even if you water and feed lightly. Take hold of a tuft of grass in one of the bad patches and yank up on it. If the patch is circular and grass blades pull off at the roots but the roots stay in the ground, the problem may be brown-patch fungus. Some other fungus diseases cause variously shaped brown patches; with these the grass sticks tight when you pull on it. In some cases there's a dark green or grayish green line or circle around the damaged patch. For pictures and descriptions look at the Ortho Problem Solver.
Treat affected grass with fungicide. Always read the entire label and follow all directions and precautions carefully. Unless you use a product that already contains fertilizer, be sure to follow up treatment with a light application of fertilizer. Water early in the morning, not late in the day. Aerate the ground to improve water penetration.
If you've noticed large numbers of moths fluttering in a zigzag pattern over the lawn in the evening and the grass blades are chewed off at ground level, look among the roots for silky white tubes with brown or gray black-spotted grubs in them. These are signs of sod webworm. For this, treat the lawn with a spray or granular product recommended for controlling webworms.
If the grass is loose and comes up like a mat, roots and all, the problem is white grubs. Roll the turf back and look for curled white grubs living under the turf and eating the roots. Treat with a product recommended for the control of white grubs, such as diazinon. They're easiest to kill when young, but you may have to treat more than once.
Life® is a true pelletized and homogenous organic all purpose fertilizer that produces remarkable results because nutrients are released quickly yet continue to feed for several months. Rich in Wild-caught Alaskan Fish Bone Meal, Valley Grown Alfalfa Meal, High Country Feather Meal, Naturally-mined Potassium Sulfate, Aged Bat Guano, Cold Water Kelp Meal, Mined and Micronutrient-dense Colloidal Soft Rock Phosphate, Nutrient-rich Cotton Seed Meal, MicroActive™ Micronutrient-rich Seaweed Extract . Providing balanced and fast nutrition for all vegetables, flowers, bedding plants, potted plants, all trees, shrubs, annuals, perennials and even spot treating lawns. Excellent for use in raised beds during transplanting or feeding mid-season for a nutritional boost to maximize your harvest or flowers' health.
What You'll Need:
1/4 cup all-purpose flour
1/4 cup cornmeal
1/4 cup granulated sugar
1/4 cup packed light brown sugar
1/4 cup chilled butter or stick margarine, cut into small pieces
7 cups diced, peeled Rome apples (about 3 pounds)
1 cup fresh or frozen cranberries
2 tablespoons granulated sugar
2 teaspoons grated orange rind
3 tablespoons orange juice
Step by Step:
Preheat oven to 375 degrees. Lightly spoon flour into a dry measuring cup, level with a knife. Combine flour, cornmeal, 1/4 cup granulated sugar and brown sugar in a bowl, cut in butter with a pastry blender until the mixture is crumbly. Combine apples and remaining ingredients in a large bowl; toss well. Spoon the apple mixture into an 8-inch square baking dish or 1-1/2 quart casserole. Sprinkle with the crumb mixture. Bake at 375 degrees for 45 minutes or until golden brown.
Yield: 9 servings